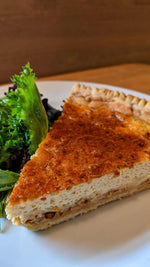 Bing Cheese Quiche
---
Total Time:
1 hour 30 minutes
---
Ingredients
5 whole eggs
1 ¼ cup cream (or half milk, half cream)
3 tablespoons Mr Bing Chili Crisp, well mixed
½ teaspoon sea salt
1 cup of shredded cheese (swiss was used in this recipe but it can be anything you like)*
*you can also add up to 1 more additional cup of your desired mix-ins such as spinach or bacon
---
Directions
Preheat the oven to 375°F. Using homemade dough for a 9 inch pie pan or your favorite brand of pie shell, lightly prick the bottom and sides, chill dough if necessary.
Using very cold dough, cover it gently with parchment paper, fill with dried beans or pie weights, then blind bake the pie shell for 15 minutes until the crust just begins to turn golden.
While the crust is baking, mix together the eggs, dairy, Mr Bing Chili Crisp, and sea salt. Just whisk until eggs are broken and well mixed, do not make it frothy and bubbly.
Once the crust is out of the oven, turn the heat down to 350°. Add the cheese (and any other mix-ins you prefer) to the partially baked crust, then add the custard mix and return to the oven and bake for 35-45 minutes.
When the quiche is set it should have a jiggle to it but not look liquidy, do not over bake or your quiche could become watery. A good way to be sure is to use a thermometer for a center temperature of 160°F.
Once finished, allow the quiche to cool to room temperature before serving.