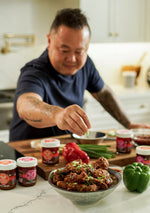 Jet Tila's Honey Chili Crisp Chicken Wings
---
The ultimate crowd-pleaser and must have for sport nights, this Chinese-American version is made with Jet Tila's personal spin, developed in his own home kitchen.
Ingredients
½ cup of honey

4 tbsp soy sauce

1/2 cup Mr. Bing's Chili Crisp

24 pcs of raw party wings, flats and drumettes 

2 cups corn starch for the first dredge

2.5 qt vegetable oil, for frying

2 cups cornstarch for frying
Directions
Make the sauce by stirring together the honey, soy, and Mr. Bing's Chili Crisp in a 

large bowl. You will be frying the wings and rolling them into this sauce while hot. 

Rinse the chicken wings in cold water, drain them briefly and then place them 

in a shallow baking dish still wet. Sprinkle the wings evenly with the first batch of cornstarch, and massage until a thin batter forms.

Place oil in a 6-quart (5.7-L) Dutch oven or pot and heat on high. Bring the 

temperature of the oil to 365 F. 

Pour the second round of cornstarch into a separate large bowl. Dredge the chicken wings, dust 

off the excess and fry the wings in three batches. Cook each batch for 8 to 10 minutes, turning occasionally, until cooked through and golden brown. The internal temperature should be 165 degrees. Drain the wings on paper towels briefly and roll them in the prepared sauce. Serve hot.