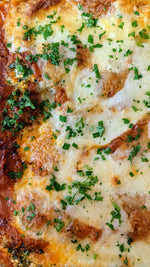 Spicy Cheese and Lasagna
---
---
Ingredients
1 pound lasagna noodles
30oz (about 3 ½ cups) whole milk ricotta
24oz fresh mozzarella, sliced
8oz goat cheese
¼ oz (about 1 ½ cups) grated parmesan
2 whole eggs
3 teaspoons sea salt
1 pound fresh spinach (can substitute with 10oz frozen spinach)
1 tablespoon canola oil
1 recipe of Mr Bing's Spicy Tomato Sauce
2 28oz cans crushed or diced tomato (I prefer fire roasted)
⅓ cup Mr Bing Chili Crisp, mixed well
1 small white onion, diced
2 tablespoons olive oil
2 garlic cloves, crushed
2 bay leaves
2 teaspoons dried oregano
2 teaspoons sea salt
---
Directions
First, make your tomato sauce. Heat a large pot over medium heat with the olive oil and Mr Bing. Add onion, garlic, bay leaf, and oregano and saute until onion and garlic are softened then add salt and tomatoes. Bring this to a simmer and allow to cook for 30 minutes (don't have time for homemade sauce? Just simmer 2 of your favorite jars of tomato sauce with ⅓ cup Mr Bing Chili Crisp for 10 minutes).
In the meantime, begin boiling a large pot of water with 1 tablespoon of salt.
Next, heat a large skillet over high heat with 1 tablespoon canola oil until it begins to smoke then add spinach with 1 teaspoon sea salt and cook until fully wilted.
Immediately dump spinach into a colander over a bowl to drain and squeeze out any excess water, then allow to cool before chopping finely (if you are using frozen spinach, just thaw completely and squeeze out the excess water).
In a large bowl, combine ricotta, goat cheese, 1 cup of grated parmesan, eggs, 2 teaspoons sea salt, and mix well. Add the chopped spinach and set aside.
Take the tomato sauce off the heat, remove bay leaves, use a hand blender to blend lightly, and set aside.
Place lasagna noodles in the boiling water and cook for 3-4 minutes (just until pliable), drain and coat lightly with some olive oil to prevent sticking. Preheat the oven to 375°F and now time for assembly!
Take a 9x13 pan and spread ½ cup of sauce on the bottom. Make one layer of pasta, spread 1 ½ cups cheese mix over top, add some torn up fresh mozzarella, another layer of pasta, spread 1 ½ cups of sauce over top, and more torn mozzarella.
Repeat this process until the fifth and final pasta layer where you will top the pasta with cheese mix, then sauce, then most of the mozzarella to cover and sprinkle with the remaining ½ cup grated parmesan.
Cover with foil and bake for 25 minutes, remove foil and bake for another 15-20 minutes until top is fully melted and barely begins to brown.
Remove, sprinkle with some chopped parsley and allow to cool for about 15 minutes before serving.