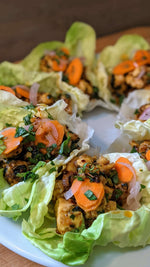 Tofu Larb
---
---
Ingredients
1# super firm tofu, pressed and drained
¼ cup rice flour
1 tablespoon oil from Mr Bing Chili Crisp
2 tablespoons cooking oil
3 tablespoons Mr Bing Chili Crisp
Zest from 1 Lime
2 large limes, juiced
2 tablespoons fish sauce (or white soy for vegan friendly)
2 tablespoons brown sugar
1.5 teaspoons sea salt
½ cup mint, lightly packed
½ cup basil, lightly packed
½ cup cilantro lightly packed
Quick Pickle
1 small carrot
½ small red onion
½ cup water
¼ cup rice vinegar
½ teaspoon sea salt
---
Directions
First press and drain the tofu to get as much water out as possible.
To make the quick pickle, peel and slice carrot into thin rounds then thinly slice the ½ red onion into quarter circle pieces.
Place veggies in a heat safe glass and bring the water, rice vinegar, and sea salt to a boil then pour over the sliced vegetables. Give it a store and set aside until ready to serve.
Gently break tofu into roughly ½ inch chunks, trying not to crumble as the pieces will break up more during cooking, then toss gently to coat with rice flour.
Heat the Mr Bing oil and cooking oil over high heat then add tofu and sear until it crisps slightly and has a light golden color, stirring occasionally.
While tofu is cooking, place lime zest, lime juice, fish sauce (or white soy for vegan), brown sugar, and sea salt in a bowl and whisk to dissolve the sugar then set aside. Roughly chop the herbs and set aside.
After the tofu is cooked, turn off the heat and add Mr Bing Chili Crisp. Stir until tofu is coated then add to the bowl with lime juice mixture. Stir everything together then add the herbs, saving just a bit for garnish along with the pickles.
This dish can be served warm, room temperature, or chilled. Serve inside bibb or romaine lettuce cups (or over jasmine rice) with pickled veggies and a sprinkle of more herbs on top.