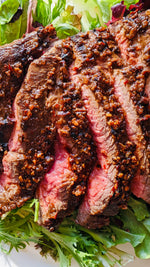 Bing Crusted Flank Steak
---
---
Ingredients
2 pounds flank steak

¼ cup Mr Bing Chili Crisp, well mixed

2 tablespoons canola oil

2

tablespoons Worcestershire

1

tablespoon balsamic vinegar

1

 tablespoon Dijon or spicy brown mustard
Directions
Whisk together all of the marinade ingredients until completely combined.

Place steak in a flat container just big enough to hold it, pour all of the marinade on top and make sure the meat is completely and evenly coated.

Allow the steak to marinate on the counter at room temperature for 1 to 2 hours or in the refrigerator overnight.

If the steak is refrigerated overnight, take it out an hour before cooking so it can come to room temperature.

When ready to cook, heat a cast iron skillet over medium heat (it is important to not cook the steak on too high of heat or the marinade will burn).  Remove the steak from the marinade, being sure to keep as much on as possible.

Lightly season the steak with salt, then place directly into the dry skillet.

Cook the steak for 5 to 6 minutes on each side for a medium doneness. 1 to 2 minutes less or more per side will result in rare or  well done.

Allow steak to cool at least 5 minutes before slicing, wait 10 minutes if cooked to well done.

Sprinkle sliced beef with some flaky salt, some more Mr Bing if you like it extra spicy, and enjoy!