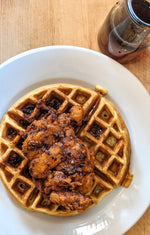 Chicken and Waffles
---
Total Time:
7 hours
(30 minutes cooking time)
---
Ingredients
Oil for deep frying
1 ½ pounds boneless, skinless chicken
Maple Syrup
Marinade
2 cups buttermilk
1 tablespoon sea salt
1 tablespoon chili oil from Mr Bing Chili Crisp
Sauce
5 tablespoons butter, melted
½ cup Mr Bing Chili Crisp, well mixed
1 tablespoon white vinegar
Dredge
3 cups all-purpose flour
1 tablespoon sea salt
1 teaspoon paprika
1 teaspoon garlic powder
Waffles
1 cup milk
¾ cup buttermilk
2 whole eggs
½ cup vegetable oil
1 ¾ cup all purpose flour
2 tablespoons sugar
2 teaspoons baking powder
1 teaspoon baking soda
1 ½ teaspoons sea salt
---
Directions
Either the day before or at least 6 hours before, you will need to marinade the chicken. For the marinade, mix together buttermilk, salt, and chili oil then add the chicken.
In the meantime, make the sauce by whisking together melted butter, Mr Bing Chili Crisp, and white vinegar and keep off to the side until ready to use.
Next prepare the flour dredge by combining flour, salt, paprika, and garlic powder.
To prepare the waffle batter you will sift or whisk together the flour, sugar, baking powder, baking soda, and sea salt in a bowl.
In a separate vessel you will whisk together milk, buttermilk, eggs, and oil before adding to the dry ingredients and combining the batter thoroughly but do not mix until completely smooth. Set the batter aside to rest.
Now take the chicken directly from the buttermilk mixture, being sure it is as wet as possible, and thoroughly coat it in the flour dredge.
Gently submerge the floured chicken into your frying oil, this will cool the temperature of the oil so you will need to adjust the heat and monitor that it comes up to 320°F to fry for about 8 minutes or until chicken is 165°F.
While the chicken is frying, begin making your waffles and setting them aside. If desired, waffles can be kept in a warm oven until ready to eat.
After the chicken is cooked, place onto a tray with a rack or paper towels, sprinkle lightly with salt, then dunk and cover with sauce before placing on a waffle and topping it all off with a drizzle of maple syrup.