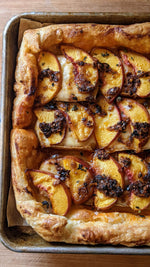 Brie and Peach Galette
---
---
Ingredients
1 14-oz package of frozen puff pastry
2 ripe peaches
8oz brie
2 tablespoons Mr Bing Chili Crisp
2 teaspoons honey
2 sprigs thyme
Arugula
Directions
Preheat oven to 350°F. Take puff pastry out of the freezer and allow it to defrost before unfolding.
Cut peaches in half, remove the pits, slice into ¼ inch thick pieces, and set aside.
Cut brie in half widthwise (to create a smaller triangle and a trapezoid), slice into ¼ inch thick pieces and set aside.
Line a baking tray with parchment paper, gently unfold the puff pastry and lay on top of the parchment.
Lay the brie down first, lengthwise in rows of 3. Next lay peach slices on top of the rows of brie.
Fold up and crimp the edges of puff pastry around the cheese and peaches, this doesn't have to be perfect!
Spoon some well mixed Mr Bing Chili Crisp evenly over the galette, drizzle with honey, place thyme on top, put in the oven and bake for 30-35 minutes until edges are golden brown and crispy.
Once out of the oven, sprinkle with a little flaky sea salt and allow to cool for 10-15 minutes before cutting.
This can be eaten on it's own or served on top of a small handful of arugula.