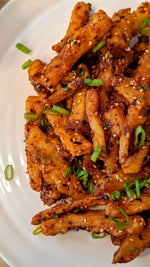 Twice Fried Bing Fries
---
---
Ingredients
6 cups frying oil
5 medium sized russet potatoes
Coatings
⅓ cup all purpose flour
⅓ cup cornstarch
½ cup water
Sauce
3 tablespoons Mr Bing Chili Crisp, well mixed (mild or spicy if you want extra heat)
3 tablespoons brown rice syrup (can substitute honey)
1 tablespoon rice vinegar
2 teaspoons tamari or soy sauce
2 teaspoons tomato paste
½ tsp sea salt
1 tablespoon toasted sesame seeds
3 scallions, thinly slice just the greens
Directions
Heat oil in a large, wide, heavy pot over medium-high heat (you will need a thermometer!).
In a small bowl, whisk together all the sauce ingredients except for sesame seeds and scallion greens then set all aside.
In another bowl, whisk together the flour and cornstarch only, then set aside.
Peel the potatoes, keeping in water to stop them from browning, then cut each one into ½ inch by ½ inch sticks. Place the potato sticks back into your bowl of water and give them a rinse under cold running water before draining.
In a large bowl, add the potato sticks and gently toss with about ¼ cup of the flour and cornstarch mix to cover each one completely.
Once the oil has reached 350°F-375°F, turn the heat up to high and very carefully begin adding the dusted potatoes. Adding the potatoes will significantly drop the temperature so monitor the oil until it comes back up to 300°F-325°F before turning the heat back down to medium-high. Fry the potatoes for about 4-5 minutes, occasionally and gently stirring. Remove the fries from the oil, drain on a paper towel lined tray, and allow to cool to room temperature.
In the same large coating bowl as before, add the rest of the flour and cornstarch mix and slowly whisk in the water to create a thin batter-like consistency. Add the cooled fries into the coating and gently cover them, don't be afraid to use your hands and make sure they are all separated!
Add these wet-coated fries back into 350°F-375°F oil one at a time, monitor the heat again until it is back up to 350°F-375°F, and fry the potatoes for about 5 more minutes until golden brown, occasionally and gently stirring. Remove the fries from the oil, drain on the same paper towel lined tray and lightly sprinkle with some sea salt.
In a large skillet, add the bowl of mixed sauce ingredients, bring to a rolling boil, add fries, turn off the heat, and gently toss to cover everything with sauce.
Add sesame seeds and scallions at the end and serve immediately.