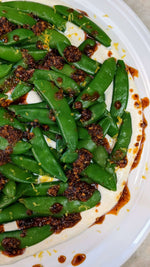 Snap Peas with Ricotta
---
---
Ingredients
1 pound snap peas
1 cup ricotta
1 lemon
½ teaspoon fine sea salt
2 tablespoons Mr Bing Chili Crisp, well stirred
Directions
In a large pot, bring 4 quarts of water with ¼ cup of coarse salt to a boil.
In the meantime, clean the peas by snapping one tip and gently pulling down the seam on the flat side and then repeating with the other tip but pulling down the rounded side (this will remove the tough strings, making the snap peas more enjoyable to eat).
Put the snap peas into boiling water and boil for 30 seconds then drain and immediately shock in ice water to cool completely.
In a bowl, whisk together ricotta with zest of the whole lemon, juice from half the lemon, and fine sea salt.
Drain peas very well and pat dry with a clean towel.
Spread the ricotta in the bottom of a serving dish, pile snap peas on top, then spoon Mr Bing Chili Crisp evenly over everything.