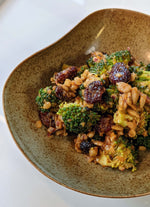 Broccoli Satay Salad
---
---
Ingredients
3 small heads of broccoli
⅓ cup sunflower seeds, roasted and salted
½ cup minced red onion
⅓ cup unsweetened (or slightly sweetened) cranberries
½ cup smooth peanut butter (or other preferred nut butter)
3 tablespoons Mr Bing Chili Crisp, stirred well
2 tablespoons maple syrup
¼ cup lime juice (about 2 large limes)
2 teaspoons low sodium soy sauce (or tamari)
1 teaspoon smoked paprika
Directions
Cut florets off the large broccoli stem, as close to the crown as possible and then cut or break any large pieces into small bite-sized pieces.
Place in a bowl with sunflower seeds, minced red onion, and dried cranberries and gently toss together.
In another bowl, add the peanut butter, Mr Bing Chili Crisp, maple syrup, lime juice, soy sauce, and smoked paprika and whisk until completely smooth.
Add the sauce to the broccoli and mix well until everything is coated.
Can be served immediately or refrigerated until ready to eat. This will stay fresh for 2 days in a refrigerator.