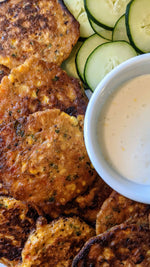 Corn Fritters
---
---
Ingredients
Fritters
3 cups of corn (fresh, frozen, or canned. For frozen: defrost, drain, pat dry. For canned: drain and pat dry)
1 small red pepper
1 cup parsley, lightly packed
1 cup all purpose flour
⅓ cup milk
2 whole eggs
1 teaspoon sea salt
1 teaspoon baking powder
¼ cup "spicy" or "mild" Mr Bing Chili Crisp, well mixed
Sauce
½ cup yogurt
1 tablespoon honey
½ lemon, zested and juiced
½ teaspoon sea salt
---
Directions
In a small bowl, whisk together all the sauce ingredients and refrigerate until ready to use.
Heat a cast iron or nonstick skillet over medium low heat with just enough oil to cover the bottom, about 2-3 tablespoons.
In a food processor, add 1 cup of corn, red pepper, parsley, flour, milk, eggs, sea salt, baking powder, Mr Bing Chili Crisp, and blend to incorporate the ingredients but do not make smooth! Pour this mixture into a bowl with the remaining 2 cups of corn and fold together.
Start cooking the fritters by dropping about 2 tablespoons of batter per fritter into the hot oil. Cook about 3 minutes on each side until nicely browned, then place onto a rack or paper towel lined tray and sprinkle lightly with salt. Replenish oil as needed and continue cooking the fritters.
Serve hot with the yogurt dipping sauce, and any crudite vegetable if you'd like such as cucumber slices or celery sticks.