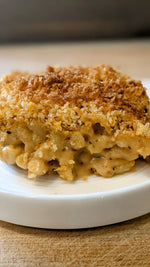 Mac and Cheese
---
Serves:
6-8 as a meal,
10-12 as a side dish
---
Ingredients
1 pound elbow macaroni
⅓ cup Mr Bing Chili Crisp (spicy version)
¼ cup butter
½ cup all purpose flour
3 ½ cups of milk
1 tablespoon + ½ teaspoon sea salt
8oz mild cheddar cheese
8oz jack cheese
8oz mozzarella
1 ½ cups panko
2 tablespoons chili oil from Mr Bing Chili Crisp
Directions
Begin boiling a large pot of water and preheat the oven to 325°F.
Shred the cheeses and set aside (it's important to not use pre-shredded cheese, as these contain anti-caking agents that can cause a grainy feeling sauce).
In another large pot, melt the butter over medium heat then add Mr Bing. Whisk in the flour until smooth and allow the roux to cook for about 2 minutes. Slowly pour in the milk, whisking constantly to ensure flour dissolves completely and the sauce is smooth. Add 1 tablespoon of sea salt and bring this to a simmer, watch the sauce thicken while whisking frequently.
Once the sauce comes to a simmer, turn the heat down to low and add a handful of cheese at a time, being sure to melt the previous handful before adding another.
Boil the pasta for only 4 minutes, we are undercooking it so the mac and cheese does not turn out to be mushy after baking. Drain the pasta, add it back into the empty pot used for boiling, add the cheese sauce, then pour the mac and cheese into a 9𝗑13 pan.
In a small bowl, mix the panko, chili oil, and ½ teaspoon sea salt and then sprinkle this over the entire pan of mac and cheese.
Bake at 325°F for 10 minutes then lightly broil until the panko topping is golden brown.