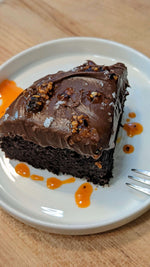 Spicy Chocolate Cake with Ganache Frosting
---
Yields:
9"x13" pan,
2 8" or *9" round pans
*using 2 9" cake pans will result in slightly thinner cakes than usual
---
Ingredients
Cake
1 ½ cups all purpose flour
¾ cup unsweetened cocoa powder
1 cup white sugar
½ cup light brown sugar
2 teaspoons baking soda
1 teaspoon baking powder
½ teaspoon sea salt
1 cup coffee
½ cup strained yogurt
½ cup milk
2 whole eggs + 1 yolk
¼ cup "spicy" or"mild" Mr Bing Chili Crisp + 2 tablespoons chili oil (we used the spicy version for our cake)
¼ cup vegetable oil
1 teaspoon vanilla extract
Ganache Frosting
14oz semi sweet chocolate chips
½ cup cream
4 tablespoons butter, diced and left to be room temperature
---
Directions
Preheat the oven to 350°F. Butter a 9x13 baking dish, lightly dust with cocoa powder and set aside.
Sift (or whisk very well) together the flour, cocoa powder, sugars, baking powder, baking soda, and salt. Add the rest of the cake's wet ingredients and whisk until totally combined and smooth.
Pour the batter into your prepared pan and bake for 30-35 minutes, until a toothpick inserted in the center comes out clean.
While the cake is baking, place chocolate chips in a bowl, heat cream until steaming then pour over the chocolate. Whisk until totally combined and smooth, then add the butter and whisk until fully incorporated. Allow the frosting to cool to room temperature (about 70°F), whisking occasionally to keep it smooth.
When the cake is baked, allow it to cool for 15-20 minutes in the pan. When the pan is cool enough to handle, turn it over onto a baking sheet tray or cutting board and let it cool completely (the hardest part!) before spreading the frosting over top and sprinkling with a little flaked sea salt.