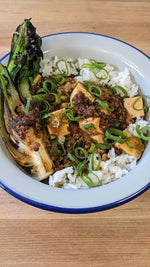 Mapo Tofu
---
---
Ingredients
8oz ground pork (or beef/chicken/plant based)
14oz firm tofu
1 tablespoon canola oil
1 tablespoon ginger, finely minced
3 tablespoons Shaoxing wine (or Sherry)
2 tablespoons fermented spicy bean paste
3 tablespoons Mr Bing Chili Crisp, well stirred
2 tablespoons soy sauce (or tamari)
1 teaspoon sugar
2 cups chicken stock (or vegetable)
1 tablespoon cornstarch, dissolved in 2 tablespoons water
5 green scallion tops, sliced thinly
Directions
Heat a large heavy bottomed pot over medium-high heat, add canola oil and allow to heat for 30 seconds before adding ground meat or vegan substitute and fry until it starts to brown.
Meanwhile, bring 1.5 quarts of water to a simmer with 1 tablespoon of coarse salt.
Once simmering, add cubed tofu, remove from heat and allow to sit in hot water until ready to use.
Once meat is browned, turn heat down to medium, add ginger and sauté about 30 seconds.
Add wine and scrape the bottom of the pot, then add bean paste and chili crisp and saute another 30 seconds before adding soy sauce, sugar, stock, and cornstarch mixture.
Bring to a boil then reduce to low heat.
Drain tofu from seasoning water and gently stir into the sauce.
Serve over white rice with scallions sprinkled on top.